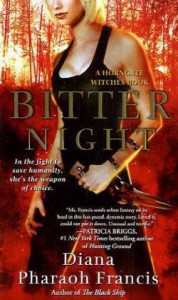 I know this is a strange way to say I'm catching up on my series reading with book 1, but it's true. I actually started with Crimson Wind which is the second book in the series. I was not lost and became quickly enthralled with the series, but I had to read Shadow City (#3) before I read anything else because the second one ended with a cliffie. So, now I'm catching up and read that first book.
Oh I'm glad I did. I didn't feel like I was missing anything, but I did get a much better feel for some of the characters like Alexander. I had an idea of what happened, but now I know. I also got to find out how she first met "Scooter", a powerful entity that plays a main role in the next 2 books.
As far as the story goes, it is filled with kick arse adventure with an equally kick arse main female character. She also has a very vulnerable side which does not take away her strength, but adds to it. Oh and plenty of snark from our heroine. Loved that. You also have some interesting characters that you will want to meet. The world is built around ours, but holds secrets that most of us are unaware, but will become aware in short order. There are the fae, gods, witches and humans who have become preternatural. It's a world that will have endless possibilities. Yes, you can safely say this has become one of my fave UF series.
I give this book 4 1/2 stars. I really loved finding out more about the characters I'm already invested. Do pick up this series if you are a UF series fan.